Former actress and current QAnon conspiracy theorist Cirsten Weldon claims that former Secretary of State Hillary Clinton died last year of kuru, a rare brain-wasting disease associated with cannibalism.
Weldon made the wild claim during a recent appearance on the far-right and pro-QAnon podcast Up Front in The Prophetic. Host Francine Fosdick mentioned that another conspiracy theorist named Gene "Decode" Cosensei claimed that Clinton had been "eliminated a long time ago" following a "tribunal" in 2018. Weldon agreed that Clinton was dead, but had different ideas about the timing and manner of her death.
"Yeah, she passed a long time ago," Weldon said in a video shared on Friday by Right Wing Watch, a project of the progressive group People for the American Way. "I don't think it was 2018, I think it was about 8 months ago, she died of kuru. And that was not from… she wasn't hanged or anything, she just expired… Hillary was on stage four, they couldn't help her. She was barely taking a breath a minute."
Weldon added that German Chancellor Angela Merkel also suffered from kuru, but was "stage three," and went on to claim that Clinton's former campaign manager John Podesta "has been seized a long time ago." She added that she believed infrequent appearances in the media were evidence that several others, like former Clinton aide Huma Abedin and former FBI Director James Comey, had "obviously" been seized as well.
"Obviously, when you don't hear from them for a long time, like Podesta, John Podesta, Huma Abedin—they're seized," said Weldon. "I mean, I exposed Comey 4/4 last year—April the 4, arrested. He has not been home to his house and his family hasn't been there for over a year."
Weldon said that Democratic donor George Soros, a figure frequently mentioned in far-right conspiracy theories, had "passed years ago" and "if you see him out there, it's probably a clone." She also bragged about knowing "the location of every NASA office" and said she would be delivering speeches at "each and every" one of the space agency's offices once "our POTUS," former President Donald Trump, "comes back" into the White House.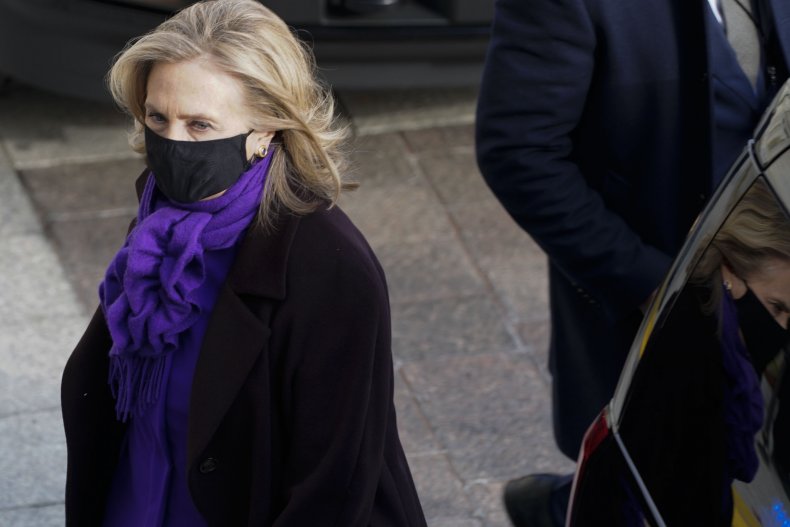 In a July 2020 live stream featuring Weldon, Cosensei claimed that Hillary and former President Bill Clinton had both been executed and that Trump's White House would soon begin offering a pay-per-view cable channel for those who wished to watch the purported executions. The pro-Trump QAnon conspiracy falsely claims that Trump is fighting a secret war against Satanic Democrats involved in child sex trafficking.
The bizarre claim that Clinton contracted and died of kuru, which was last observed over a decade ago among cannibals in Papua New Guinea, may be explained by the fact that the QAnon conspiracy also claims that figures like Clinton sometimes literally eat children as part of a Satanic ritual and to gain vitality by harvesting the substance "adrenochrome."
There is zero evidence that Clinton is dead as Weldon claims, nor is there any evidence that she or anyone else has taken part in the child-eating activities claimed by QAnon theorists. Clinton makes media appearances not infrequently and remains active on social media, with multiple recordings and interviews of her appearing on Twitter this week alone.
"What we've got in the tech world, on social media platforms, is an algorithm-driven conspiracy rabbit hole that people are enticed to go down and then addicted because it is like watching constant car crashes, you cannot turn away," Clinton said in a video posted to the platform on Wednesday. "As someone who has been accused of practically everything you could possibly imagine, I know how powerful this is."